Getting your business noticed online is no easy task, especially if your industry is heavily saturated with competition. However, we'll let you in on a little secret: your competitors can actually be the key to your success if you let them! Want to know how it all works? Keep reading to discover the value of SEO competitor analysis.
Understanding SEO Competitor Analysis
At its core, marketing is all about persuading customers that the product or service you're offering is the one that will best meet their needs. However, to be able to do this, you need to have a good idea of what your business adversaries are offering. This is where SEO competitor analysis comes in.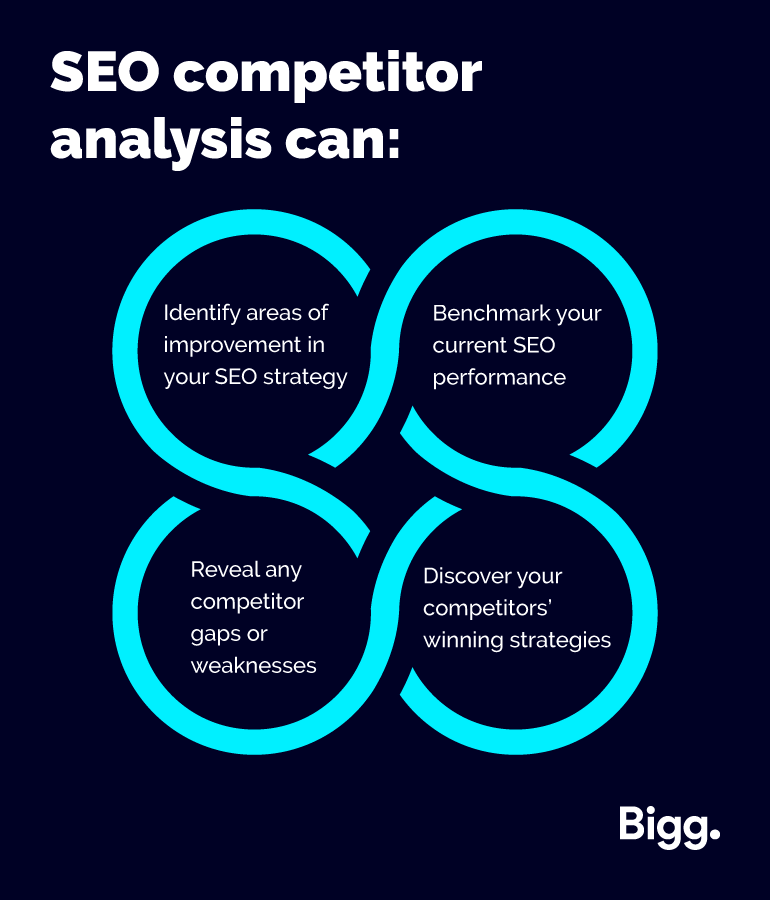 An SEO competitor analysis is the process of researching your competitors to gather insights about their keyword, content and backlink strategies in order to improve your own SEO strategy. In other words, you're looking to identify what they have that you don't, and vice versa. By the end of a competitor analysis, you should hopefully be clued up on:
What the current competitive landscape of your niche looks like
The key strengths and weaknesses of your competitors' websites
Why your competitors occupy the top spots on certain queries
How your competitors convert users into leads and collect traffic
Why is SEO Competitor Analysis So Important?
The fact is, if you're tired of losing to your competitors through organic search, conducting an SEO competitor analysis is the quickest, most effective way to find out how to outperform them. We know it's easy to feel confident when your site is ranking number one for certain keywords, but this can all change very quickly, and you should never underestimate your competitors' ability to get ahead. If you're still not convinced that a competitor analysis is necessary, here are a few of the ways that your business can benefit.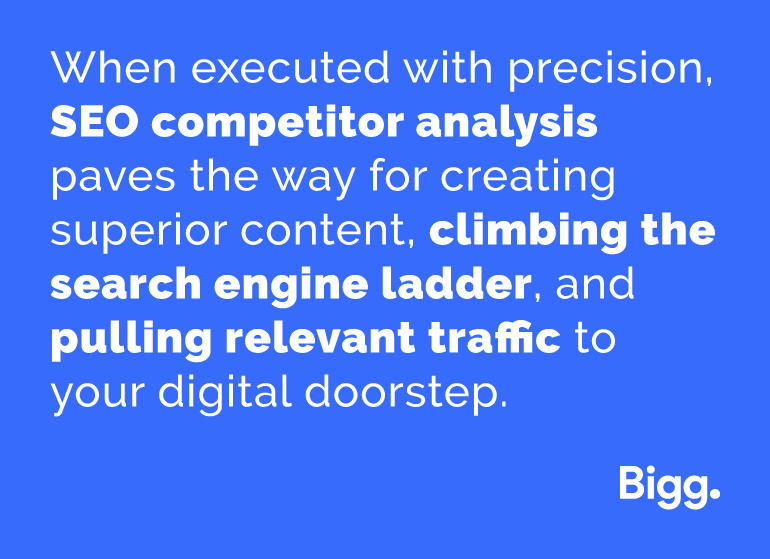 New Keyword Opportunities
An SEO competitor analysis is a great way to discover new keywords that your competitors are ranking for. By using tools like SEMRush or Ahrefs, you can:
Find out which keywords competitors are targeting
Determine how much traffic these keywords get
Assess the level of difficulty to rank for these terms
You can then compare your findings against your own list, prioritising the keywords that have a high search volume and low competition.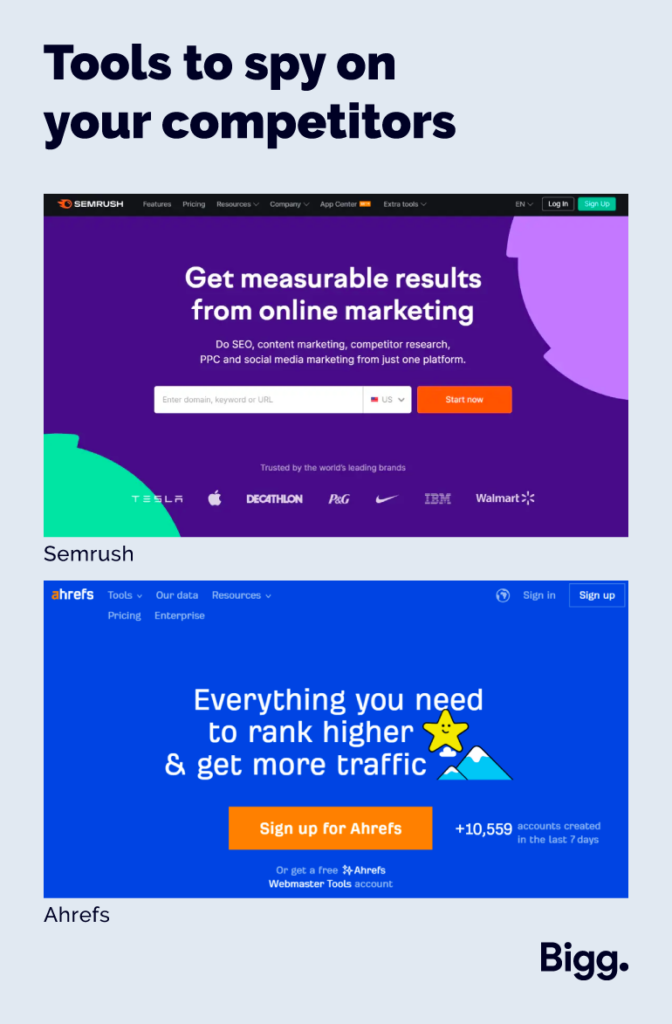 Improve Content Quality
You'll be surprised by how much you can improve the quality of your content simply by analysing the strengths and shortcomings of your competitors. BuzzSumo is a handy tool that can help you in this process by:
Identifying the types of content your competitors are creating.
Revealing how their content is being promoted.
These insights can then be leveraged to create optimised content that still covers the topics and perspectives your audience is interested in, but in a way that is more distinctive and valuable than that of your competitors.
Optimise Technical SEO
SEO competitor analysis also helps to enhance your technical SEO by locating and fixing any issues that have the potential to impact your site's performance or user-friendliness. Try using Google PageSpeed Insights to check your competitors' site speed, mobile-friendliness and accessibility, as this will give you an idea of how to improve your own score.
Identifying Your Competitors
Naturally, you can't get started with an SEO competitor analysis without knowing who you're up against. While you're bound to be aware of the key players in your industry, it's often the case that your biggest SEO foes will be a little different. Through analysis you may even find that you have several SEO competitors that land outside of your niche but you still have to contend with SERPs.
To assist you in the analysis process, here are some key points:
Identify Your SEO Competitors: Your first step is to pinpoint your SEO competitors. This involves understanding who is currently ranking highest for the keywords you aim to target.
Use Keyword Research: Conduct keyword research to identify the keywords that are most relevant to your business. These will be the terms you want to rank for in the SERPs.
Google Your Target Keywords: A straightforward way to identify your SEO competitors is by searching for your target keywords on Google. Take note of the websites that consistently appear at the top of the search results.
Consider Niche Competition: While industry competitors are important, don't overlook niche-specific competitors that might not be as well-known but still rank prominently for your chosen keywords.
Leverage SEO Tools: Utilise SEO tools like SEMRush's Organic Research to streamline the competitor analysis process. These tools can provide comprehensive insights into your competitors' strategies, including their backlinks, keywords, and organic traffic.
Monitor SERP Changes: Even with the assistance of SEO tools, it's crucial to continually monitor the SERP landscape. Search engine rankings can change, and staying updated allows you to adapt your SEO strategy accordingly.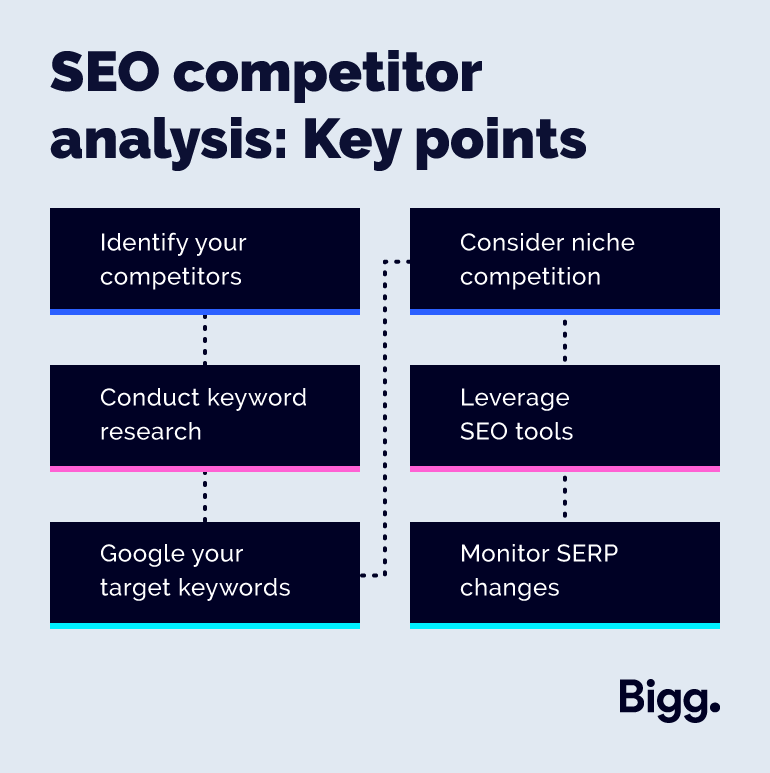 By following these steps and considering these key factors, you can effectively identify and analyse your SEO competitors, allowing you to develop a more robust SEO strategy tailored to your specific goals and market dynamics.
Improve Your Rankings with Bigg
Tried implementing your own strategy and aren't seeing the results you were hoping for? Bigg can help.
As a search optimisation agency with a proven track record for vastly improving clients' rankings, we know what it takes to uncover your biggest growth opportunities. Combining leading industry tools with traditional optimisation methods and a visitor journey approach to SEO, we strive to grow your business and increase your profitability month by month. If you're ready to take your business to the top of organic search, then schedule a strategy call with our performance experts, or simply get in touch for more information about our services.