Globally-renowned gym brand Snap Fitness achieved exponential growth on their online channels thanks to the digital marketing services of the team here at Bigg. To find out more about our process, keep reading!
The Client
Snap Fitness is a 24/7, results-driven gym brand with an emphasis on "feel good fitness". With over 60 clubs open in the UK alone, as well as 2,000+ locations globally, it is regarded as one of the world's premier fitness franchises.
Combining 24/7 access with flexible monthly contracts, bespoke personal training programmes, diverse equipment and a mood-boosting environment, it's no surprise that in March of this year they reported a 17.15% increase in club members in the UK and Ireland since the beginning of 2022.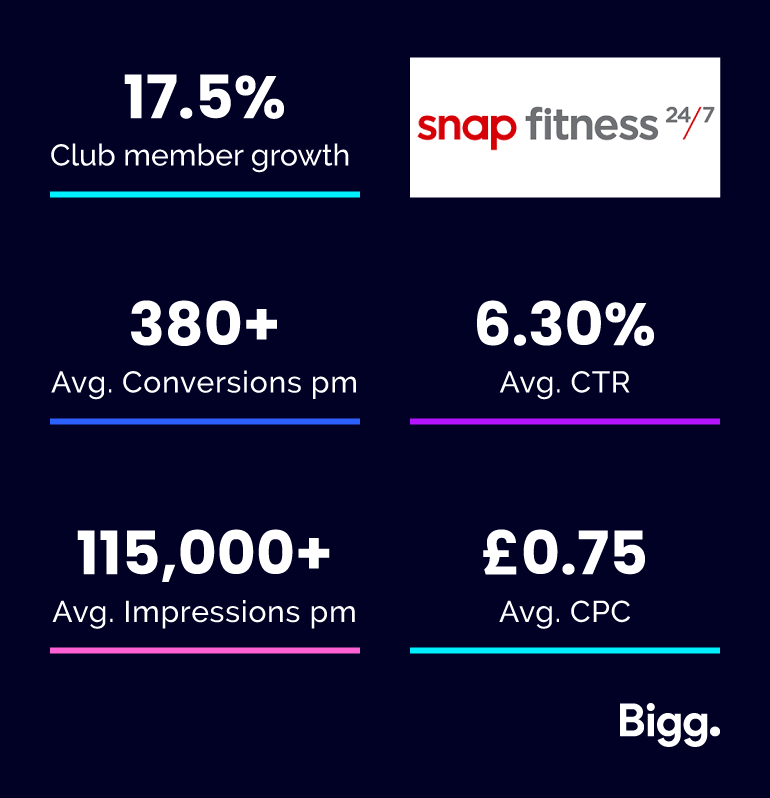 The Brief
With 46% of fitness consumers now reported to be heavily influenced by social media when it comes to making choices regarding their physical wellbeing, it's clear that businesses in this sector need to pay close attention to what's trending online.
As such, when it came to devising a strategy for Snap Fitness that suitably responded to the increasingly digital nature of the health and fitness industry, we were tasked with the following challenges:
Generating a consistent stream of high-quality leads and online registrations on a monthly basis for Snap Fitness gyms across the UK.
Implementing focused pre-sale campaigns for forthcoming gyms, spanning across a three month period, with the objective of generating more than 1000 leads within a limited timeframe.
Boosting the volume of recurring monthly sign-ups, with special attention paid to gyms facing churn issues.
The Strategy
Utilising our full suite of digital marketing services, our team provided extensive support to achieve these aims.
Through engaging social content and community building, we drummed up excitement and anticipation for upcoming gym openings, which secured more pre-sale sign-ups.
Actively interacting with customers through various digital channels – taking the time to answer queries, concerns and feedback – also helped to enhance brand credibility.
Finally, we ensured that valuable and relevant content was shared on digital platforms to drive the brand's position as an industry expert and thought leader in their sector.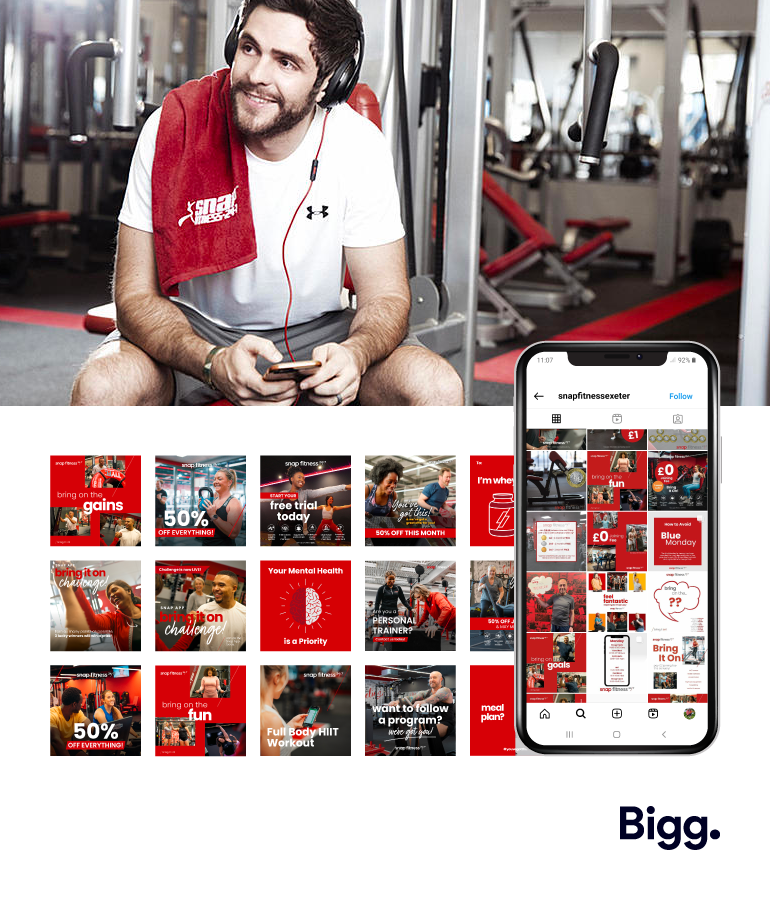 The Results
We are extremely pleased to report that our strategy has yielded the following results for Snap Fitness:
An average cost per conversion of £10.12
Consistently achieving 380+ conversions a month
An average click-through rate of 6.30% (to put this into perspective, the average Google CTR is 2.5%)
An average cost per click of £0.75
Consistent monthly impressions of 115,000+ across a UK-wide targeted audience radius around gym locations
We could not be happier about this recent success and want to thank Snap Fitness for choosing us to help grow their brand!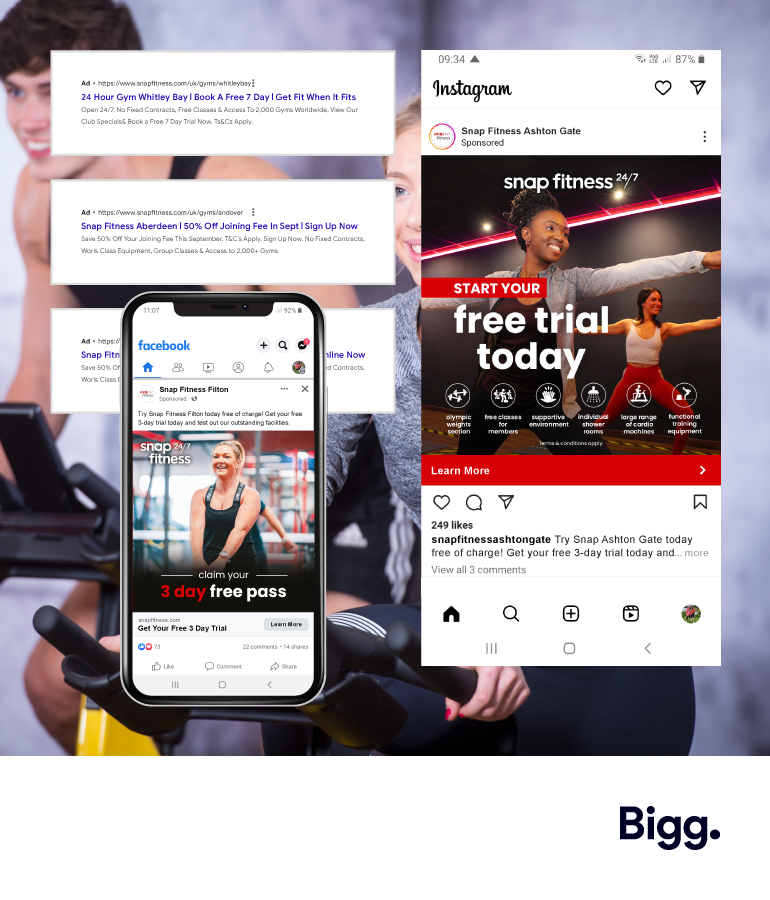 Ask How Bigg Can Help You
If we can take anything from Snap Fitness' latest triumphs, it's that maintaining a consistent online presence with tailored content is the best way to maximise your profits and drive online traffic. At Bigg, we combine this principle with our digital marketing expertise to devise bespoke campaigns that get your business noticed by a wider audience.
Our client-base hails from a diverse range of industries – from health and fitness to technical services and lifestyle – so you can rest assured we have the tools at our disposal to generate growth no matter your background. Want to follow in Snap Fitness' footsteps?
Get in touch to find out more about what we can do for your business.