A site migration on paper can seem like a great business move; acting as a fresh start and an ideal opportunity to rebrand or grow your business. But it can also come with some dangers, such as a drop in visibility and site authority.
Here at Bigg, we are experts in providing results-driven digital marketing for our customers. Here is our checklist for a smooth site migration, which will help you safeguard your traffic during the process.
The Benefits of a Site Migration
So for those unaware, website migration is the process of making changes to a website's location and structure with the eventual aim of having better online visibility. This could involve adding a mobile version, moving from HTTP to HTTPS, a new server or even a completely new CMS.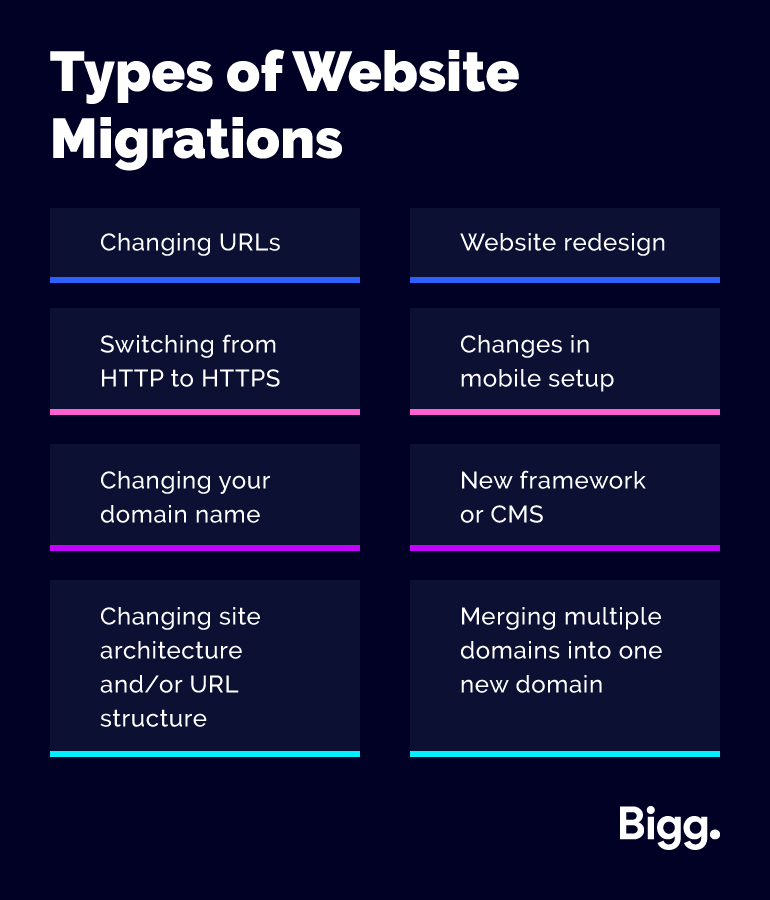 The advantages of a website migration include:
Rebrand Your Business: You can use a site migration to rebrand your business, incorporating new logos, designs and other features into your fresh site. You can even change a domain name as part of this rebrand.
Improve Functionality: Functionality is key to success, so a site migration can help you to improve the experience of your site such as introducing new features. Moving to a new server can speed up your site and increase performance.
Add A Layer Of Security: A site migration can add a new layer of security to your site, which is important if you're dealing with customer data. Switching from HTTP to HTTPS can secure the site and make sure potential customers know your site is safe to browse.
Refresh & Fix: You can take this opportunity to refresh the existing copy and locate any existing issues on your site to fix them.
Add A Mobile Version: Most people nowadays browse on a phone or tablet, so having an optimised mobile version of your site is key.
Our SEO Checklist For Site Migration
Any drastic changes to your site can affect SEO and a site migration might just be as drastic as it gets. You should always plan your move carefully to ensure everything goes smoothly. Site migration failure is often a result of a lack of forward planning.
Here is a checklist of what to do to ensure your SEO remains as untouched as possible for the best results.
Crawl Your Old Site
Crawling your current site will reveal any current issues you have with it. You don't want to copy and paste these problems over, so crawling your site will reveal what you should be working to fix before you even get started on your site migration properly.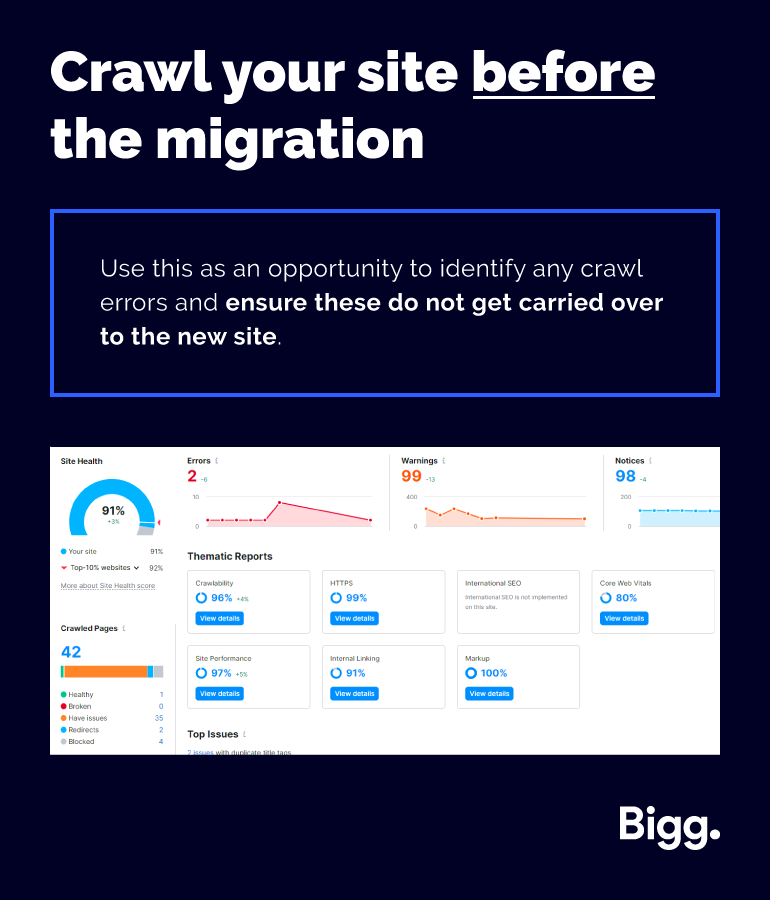 Look At Inbound Links
Inbound links are key to maintaining your traffic levels once your site has moved, especially if they are from sites with a high domain and page authority. You can find out which sites are linking to your current domain using tools such as Moz and contact the owners to ensure the link they have will lead to your new site.
Old links might be flagged as spam or have a low domain score, which can impact your site in the rankings.
Put A Redirection Plan In Place
A redirection plan is probably one of the key ways that you will maintain your search rankings and traffic. If you decide to change your domain name or upgrade to HTTPS, every single link on your old site will need to be changed.
The easiest way to do this is to crawl your old site, recover a list of all of the URLs and then match them with the most relevant new page links. This should help you keep your link equity and prevent a loss in rankings.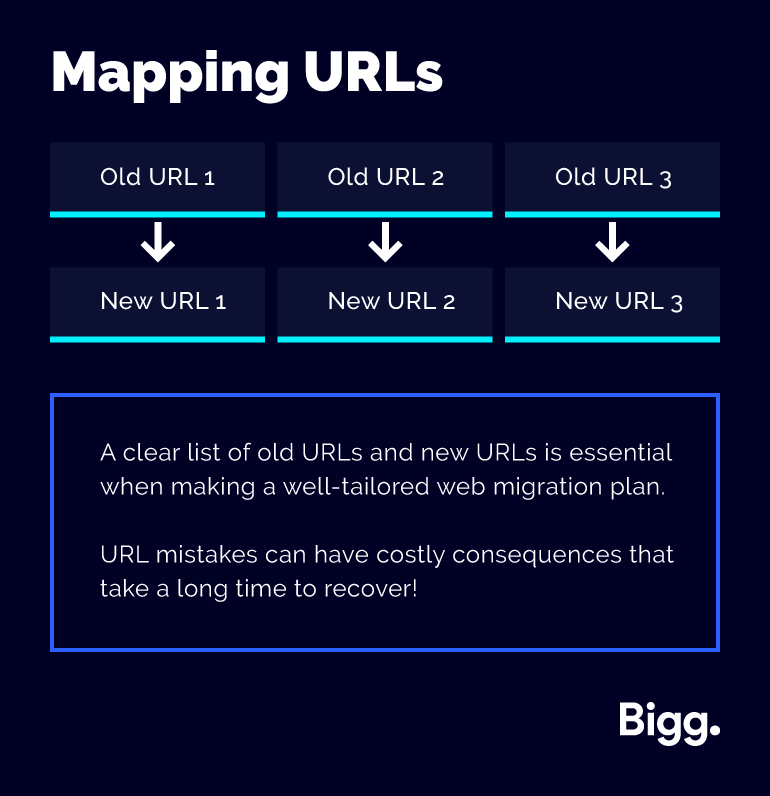 Make sure you redirect the destination URLs on your paid adverts as well, and this can be a good time to check your analytics to see how they are performing and optimise them for your new site.
Migrate At The Right Time
One thing many people get wrong is not migrating at the right time, which can lead to a significant impact on conversions. You should plan ahead to ensure your site migration occurs in periods when activity might be a bit quieter.
Transitioning during the holidays is normally a bad idea and you should remember that even a relatively easy site migration can take some time to bounce back. Base your migration timetable on sales/conversions of a previous year, picking the period you see the least interaction.
We also recommend migrating in chunks and performing tests after each move to ensure everything is running smoothly.
Use A Sandbox/Copy
Don't just switch over straight away, you can test your site migration on a test server. Doing this will allow you to see that all of your links and redirects work properly and fix any errors before the site goes live.
Going live with mistakes can see a large drop in traffic, leading to a loss of profit and conversions. Make sure you block access to your new site while you are migrating, otherwise, it will compete with the current version.
The Risks Of A Site Migration
If done incorrectly a site migration could have major consequences for your business. This can be anything from a drop in visibility to a significant loss of profits.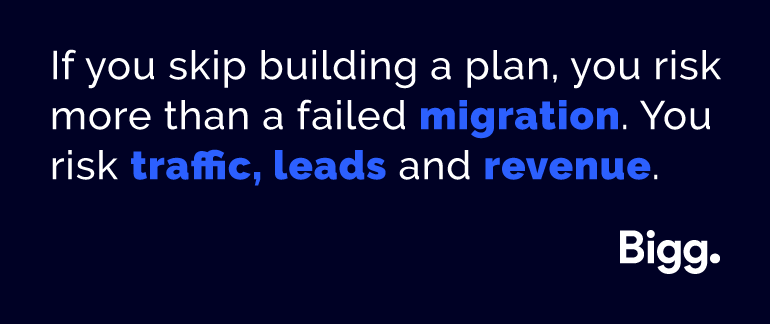 Google will have to re-index your site after a migration, so you will see a dip in organic traffic.
Your site's authority may decrease if your old pages are not redirected properly and any external sites linking to you are not redirected accordingly.
You might also face issues with responsiveness, page speed and analytic tracking if not done correctly and even possibly lose parts of your site!
A site migration will impact your visibility on search engines, so preparing accordingly is key to mitigating the impact of this.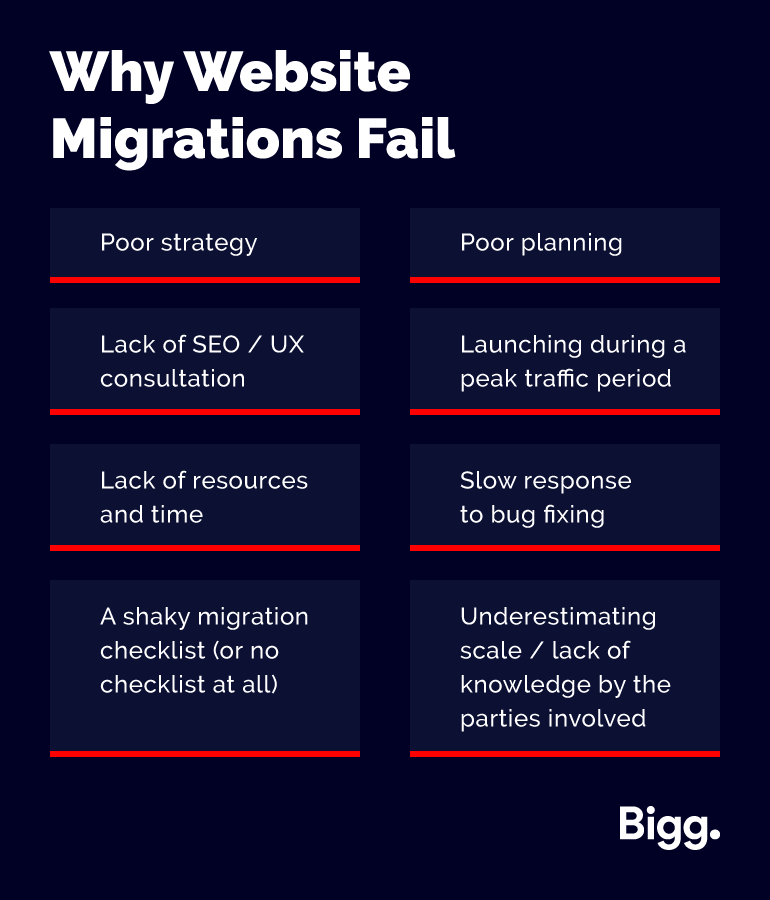 Bigg: Your Digital Marketing Experts
Bigg is an innovative digital marketing agency based in Bristol, focused on providing our clients with innovative thinking and data-driven results. We use a dynamic and scientific approach that uses marketing and conversion data to improve your results.
We do this by offering varied services across a range of digital marketing fields including paid advertising, search optimisation, content writing, social management and more. This allows us to offer bespoke packages to our clients, built around their specific needs.
If you're looking for clear results and increased conversions, get in touch with us today to find out how Bigg can ignite your campaign.