As many as 86% of shoppers regularly switch between multiple different channels at once while shopping. Some may place an online order when shopping in a physical store, while others will explore a brand's social media channels whilst also browsing their online store.
It goes without saying, then, that an omnichannel approach is something you ought to consider when creating your marketing strategy. This informative article will help you get to grips with the basics of omnichannel marketing and how it can help you climb to the top of your industry.
What Is Omnichannel Marketing?
Put simply, omnichannel marketing is a strategy that uses data and analytics to create a cohesive, seamless shopping experience across all possible touch points or channels – i.e. wherever shoppers encounter your brand. Channels can include social media, emails, apps, eCommerce websites, physical stores, and even in-person events.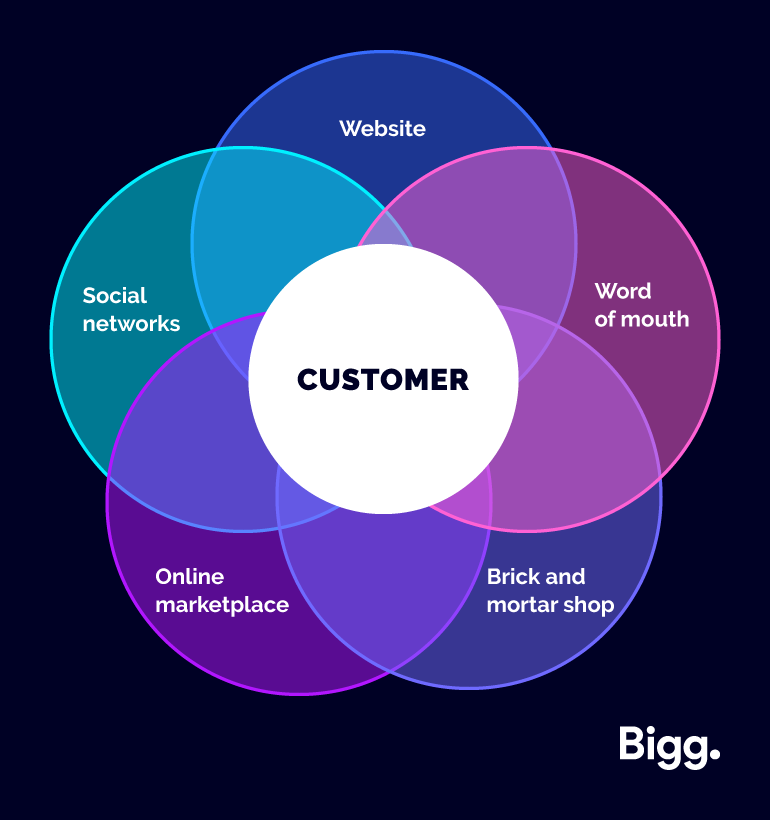 Modern audiences want to consume media constantly, which includes your business communications. By catering to this demand and reflecting customers' preferences in your communications, you can improve buyer experience and customer retention, which can subsequently benefit your business.
---
Omnichannel vs. multichannel
At this point, you may be thinking that omnichannel marketing sounds an awful lot like multichannel marketing. However, there are several differences between the two, which we have summarised below: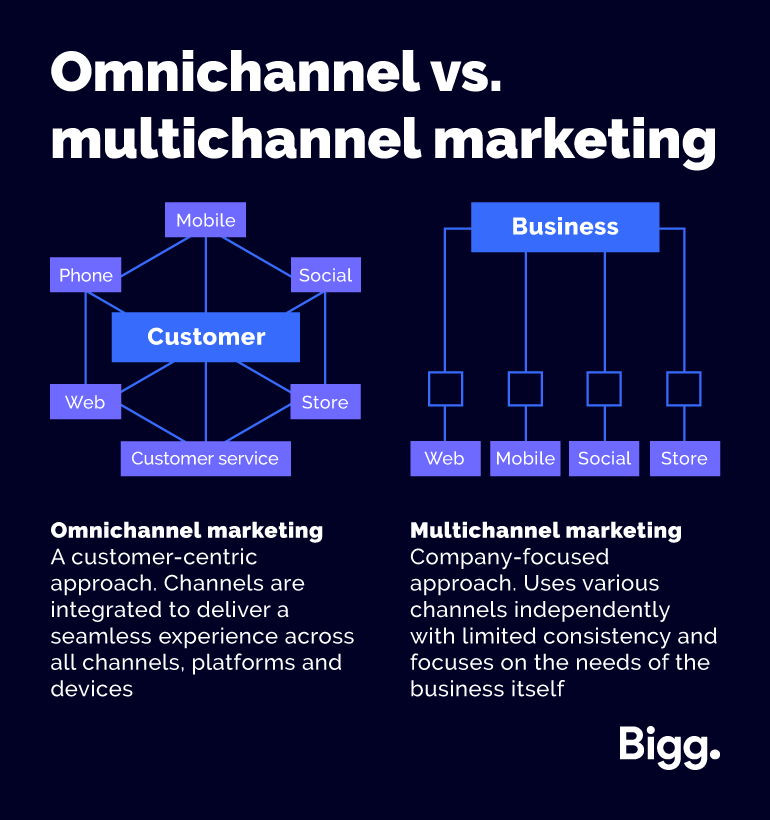 Omnichannel marketing
All available channels are utilised
Communications are streamlined and all channels work together
The customer is at the centre of the marketing strategy
Messaging adapts to customer behaviours using data and analytics
Multichannel marketing
Uses more than one channel to communicate with customers
Communications are not streamlined and channels operate individually
The product, service and/or brand is at the centre of the marketing strategy
Messaging mostly remains static and unchanging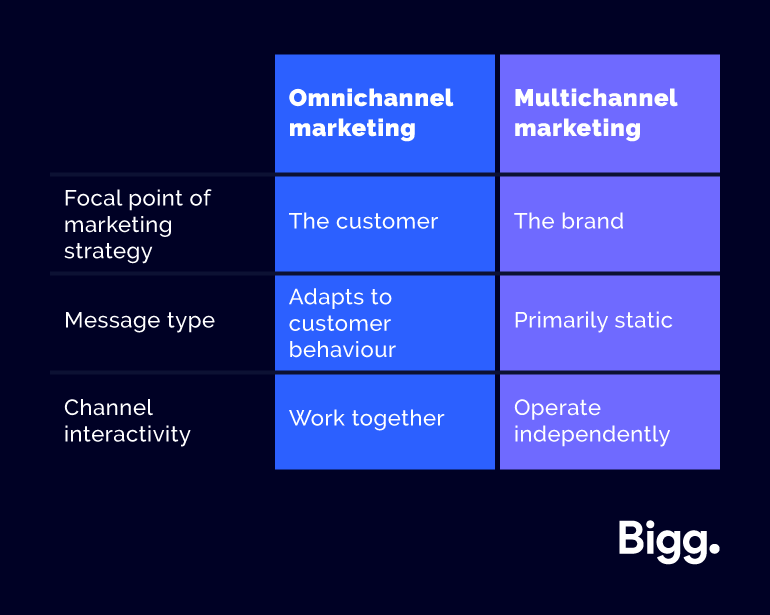 ---
Why Does It Matter?
Omnichannel marketing helps brands create a positive customer experience at every step of the buying process. It can also reduce churn rate, boost customer loyalty, and build a positive reputation for your brand.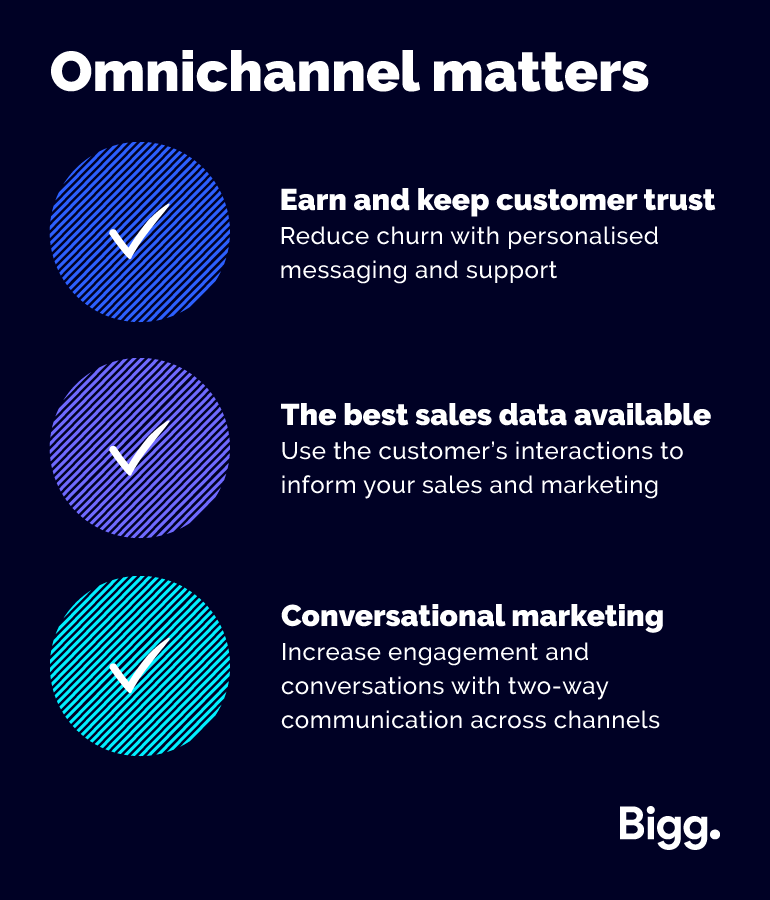 Not only that, but an omnichannel strategy responds directly to customer behaviours and attitudes, as reflected in these statistics: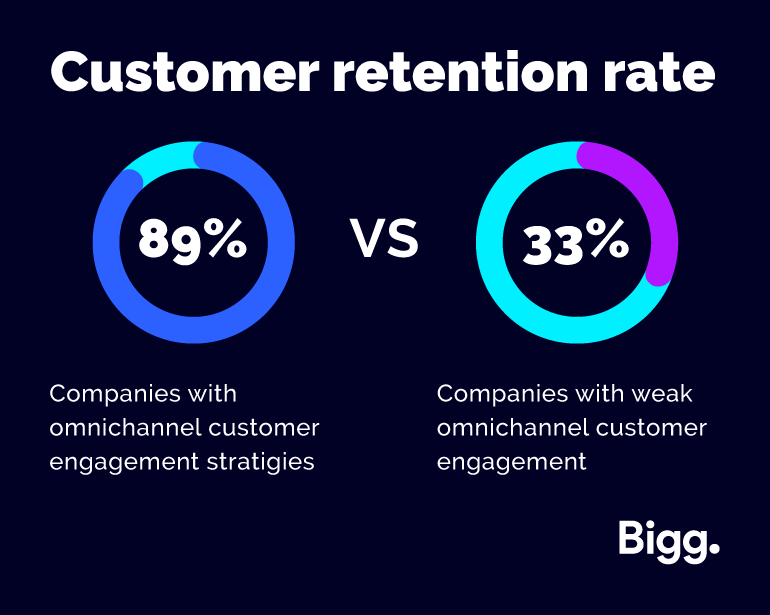 73% of consumers shop on more than one channel
Companies taking an omnichannel approach have an average customer retention rate of 89%, compared to 33% for companies taking other approaches
25% of buyers have made an online purchase whilst in a physical store
87% of customers think brands should prioritise providing a seamless experience
90% of customers expect consistent communications across channels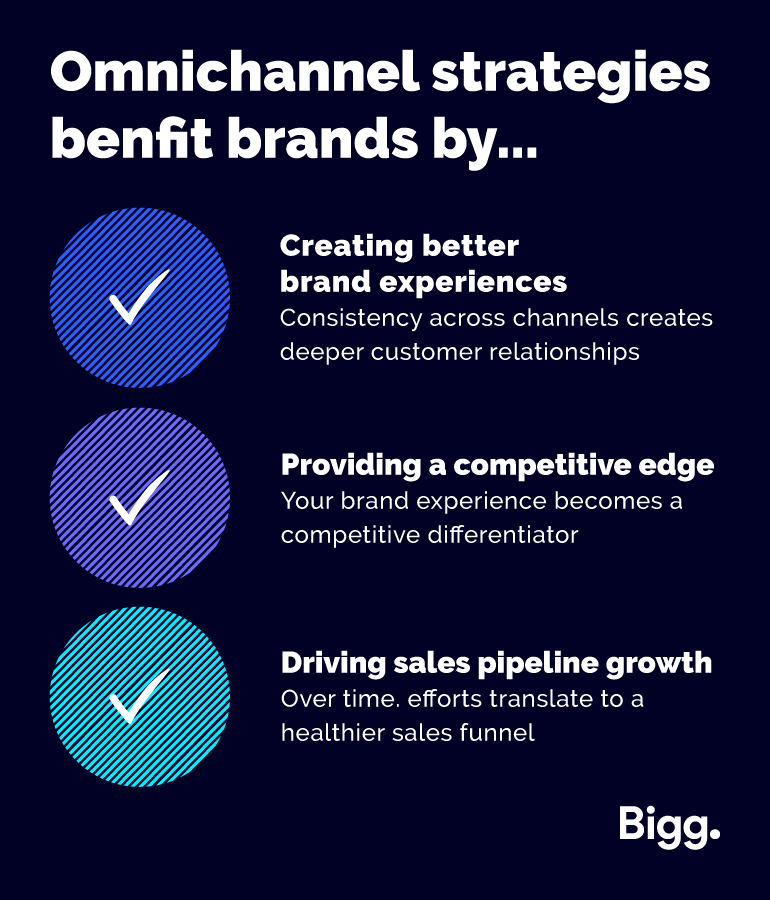 It's clear that there is a real demand for an omnichannel approach among modern consumers. Therefore, it's vital that you don't underestimate the importance of omnichannel marketing or its role in the future success of your business.
---
Key Benefits of Omnichannel Marketing
When done properly, an omnichannel strategy can offer numerous benefits to businesses of all kinds, including:
Better user experience
Omnichannel marketing uses customer data to tailor messaging and reach the right customers, on the right channels, at the right time. By focusing on customers' specific needs, you can improve user experience, drive sales, and increase retention rates.
More cohesive brand identity
An omnichannel strategy will require you to develop a single, identifiable brand identity that addresses your target audience's needs, values, and pain points. Doing this will enable you to improve customer experience, increase brand loyalty, and make your communications more targeted and strategic.
Increased revenue
An omnichannel approach increases and diversifies engagement at each stage of the buyer journey, which can help to increase revenue. Customers that engage with multiple touchpoints tend to spend around 13% more online than single-channel customers. Targeted messaging also builds customer loyalty, leading to repeat purchases – which, in fact, account for 40% of a company's revenue, on average.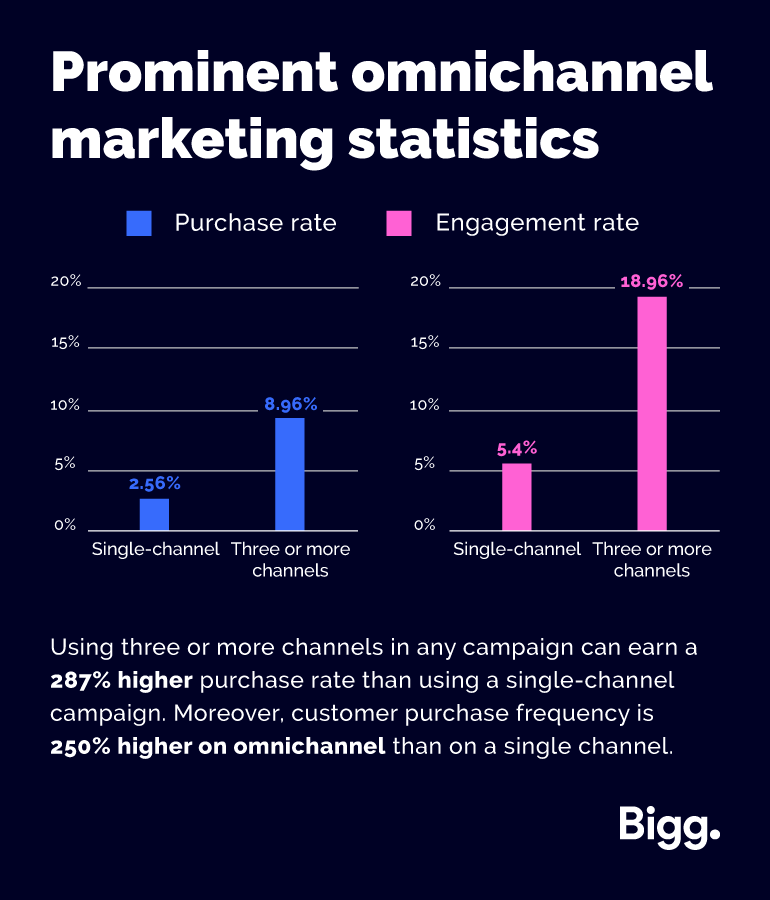 Greater customer insights
Data is essential for effective omnichannel marketing. By tracking interactions across multiple channels, you can better understand buyer journeys, their preferred engagement times and places, and which campaigns have been most effective. These insights can then be used to improve new and existing communications and avoid wasting advertising spend on ineffective ones.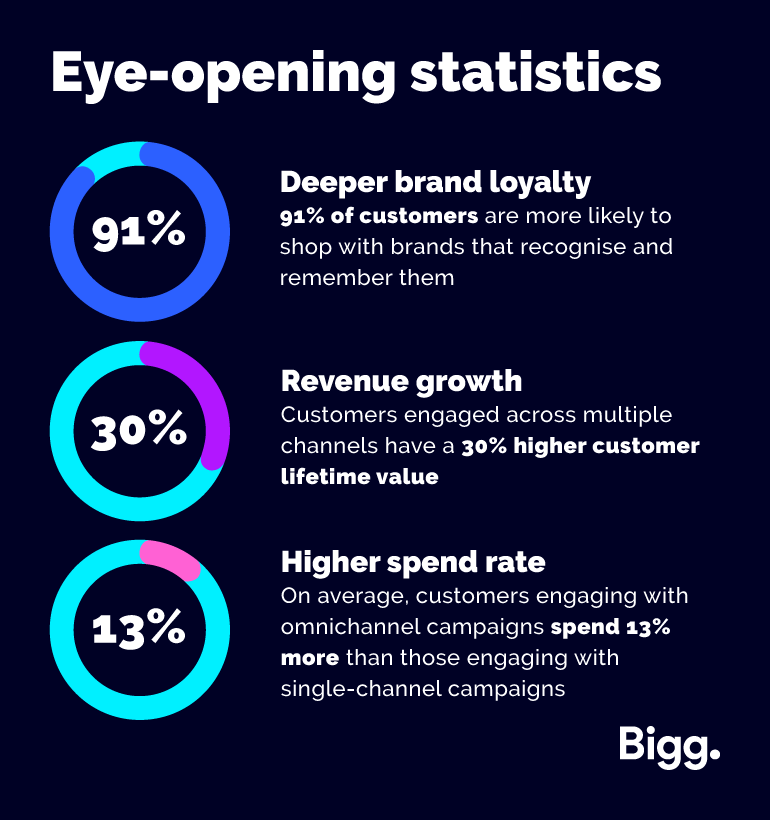 ---
Potential Challenges of Omnichannel Marketing
Recognising the importance of omnichannel marketing is one thing, but achieving the desired results is another. Many face challenges when implementing a seamless omnichannel experience for their customers, including:
Failing to understand customers
Don't just hope for the best when it comes to creating your strategy. Make sure you fully understand your buyer persona(s) and their shopping behaviours in order to present target communications for every customer and channel.
Not utilising data
Embracing data is key when implementing omnichannel marketing solutions, so it's important that your strategy utilises the available data to its fullest extent.
Analysing touchpoints individually
Measuring the success of different touchpoints in isolation will not produce accurate or holistic insight into how your omnichannel strategy is performing. Consider all touchpoints as part of a cohesive whole and measure them as such.
Not acting on new findings
Failing to take actionable steps based on new findings or insights can derail your entire strategy. The best way to fix this is by enlisting the help of skilled marketers who know how to interpret the data and adapt the strategy accordingly.
Failing to measure KPIs effectively
Many measure the overall effectiveness of their campaign but fail to measure the KPIs at each and every stage of the buyer journey. Instead of measuring the results for the entire campaign, break it down into stages that reflect your typical customer journey.
Working with the marketing specialists here at Bigg is the best way to achieve your marketing goals and ensure the success of your omnichannel strategy. We have the expertise and experience necessary to overcome the challenges outlined above and help you reap the rewards you'd expect from an omnichannel approach.
---
Best Practices for Omnichannel Marketing
Not only is the Bigg team well-equipped to deal with challenges, but we also know precisely what best practices to follow to ensure your strategy yields results. These best practices include but are not limited to:
Understand your customers
No two customers behave the same way, so it's vital that you take the time to understand your audience, map out their journeys and create a strategy that reflects these insights.
Utilise the right channels
You don't have to utilise all available channels. Determine which ones your customers frequently use to interact with your brand and go from there.
Avoid harassing your customers
While understanding your customers is key, avoid invading their privacy or bombarding them with communications. Remember – right message, right person, right time, right channels.
Prioritise consistency
Always ensure that your messaging is consistent across all channels. This means streamlining everything from staff training to the content throughout the buyer journey.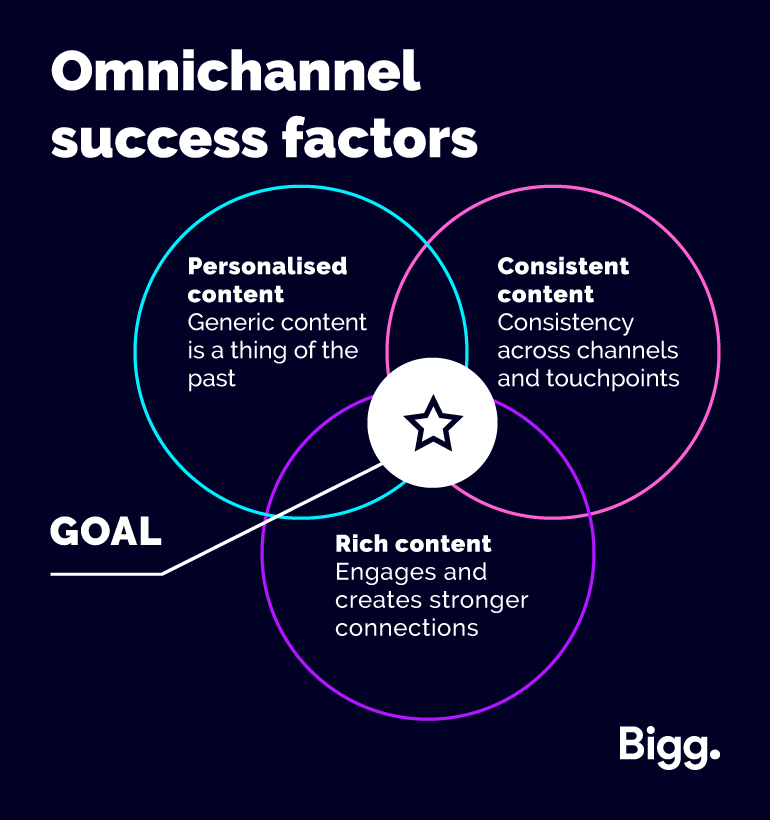 Measure, measure, measure
Continually measure the effectiveness of your campaign. This will enable you to identify its strengths and any pain points that need resolving.
---
Climb to the Top with Expert Marketing Services from Bigg
Here at Bigg, we take a scientific approach to marketing that is all about results. With a whole host of marketing services available, from content writing and branding to paid advertising and social media management, we are well-placed to help you implement an omnichannel strategy that is sure to succeed. Using a variety of data collection and analysis tools, our teams will be able to ensure that your messaging remains relevant and consistent across every channel and continually benefits your business.
If you're looking for a comprehensive marketing package that promises growth and profitability, you needn't look any further than Bigg. To discuss your business goals and get your omnichannel marketing journey underway, book your one-to-one strategy call with one of our performance experts now. Alternatively, if you'd like to learn more about our specialist marketing services, simply contact us – our friendly team will be more than happy to answer your questions.